Central Okanagan Real Estate Report November 2017
November 2017
Top Home Sale in Central Okanagan
1669 Lakestone Drive, Lake Country, V4V 2T4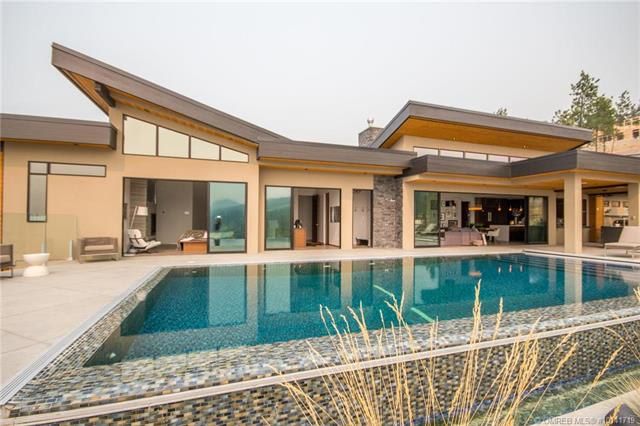 This Lake Country South West home built in 2015 was offered for the first time on MLS® at $2,599,000 and was sold in 61 days for $2,362,000.
It was marketed as
INFINITY POOL WITH LAKE VIEWS! Okanagan living does not get better than this! This gorgeous custom build features 4 bdrms + Office, 6 baths and almost 5400 sq ft. The layout was perfectly created to capture the amazing lake views and southern exposure with large view windows and sliding doors from all rooms on the pool/deck side. The Kitchen is simply impressive with custom solid walnut cabinets, walnut faced fridge, Miele fridge freezer and built-in double wall oven, Wolf gas range & Butler's pantry. To top it off, the indoor/outdoor bar feature in the kitchen easily brings the outdoors in; making it a breeze to enjoy the hot summer evenings to the fullest. The Master retreat has a custom tile shower with dual rain shower heads, deep soaker tub with lake views and large walk-in closet with built-ins. The outdoor space is an oasis; amazing infinity pool, hot tub, outdoor kitchen, lots of lounging and entertaining space and fully landscaped. Make every day a staycation!
Now on to our regularly scheduled real estate market statistics based MLS® sales reported by REALTORS® November 1st - 30th 2017.
Condo/Apartments
| | |
| --- | --- |
| Sales | 112 |
| New Listings | 144 |
| Current Inventory | 313 |
| Number of Months | 3 |
| Sell/Inv. Ratio | 35.78% |
| Days to Sell | 52 |
| Days – Range | 4 to 292 |
| Average Price | $334,106 |
| Median Price | $319,450 |
| Price - Range | $97,500 - $869,900 |
| Hottest Neighbourhood | Kelowna North |


Condo/Townhouses
| | |
| --- | --- |
| Sales | 49 |
| New Listings | 73 |
| Current Inventory | 183 |
| Number of Months | 4 |
| Sell/Inv. Ratio | 28.78% |
| Days to Sell | 58 |
| Days – Range | 9 to 425 |
| Average Price | $469,053 |
| Median Price | $445,000 |
| Price - Range | $230,000 - $867,000 |
| Hottest Neighbourhood | Springfield/Spall |
Lots & Acreages
| | |
| --- | --- |
| Sales | 55 |
| New Listings | 88 |
| Current Inventory | 348 |
| Number of Months | 6 |
| Sell/Inv. Ratio | 15.80% |
| Days to Sell | 66 |
| Days – Range | 7 to 488 |
| Average Price | $285,126 |
| Median Price | $178,125 |
| Price - Range | $55,000 - $3,400,000 |
| Hottest Neighbourhood | Lake Country South West |


Central Okanagan Home Sales by Price Point YTD
Time frame is from Jan 2016 to Dec 2017
Property Type is 'Single Family Residential
MLS is 'OMREB'
Major Area is 'Central Okanagan'
Residential
| | |
| --- | --- |
| Sales | 189 |
| New Listings | 270 |
| Current Inventory | 759 |
| Number of Months | 4 |
| Sell/Inv. Ratio | 24.90% |
| Days to Sell | 50 |
| Days – Range | 5 to 391 |
| Average Price | $674,598 |
| Median Price | $610,000 |
| Price - Range | $250,500 - $2,362,000 |
| Hottest Neighbourhood | Rutland South |

Ratio of Sales vs Inventory 26.45%