Holm Cooking: Sesame Seed & Avocado Salad with Cocoa Chile Beef
Another experiment from "The Flavor Matrix"
This recipe is for 2 servings - easily adaptable for more ;-)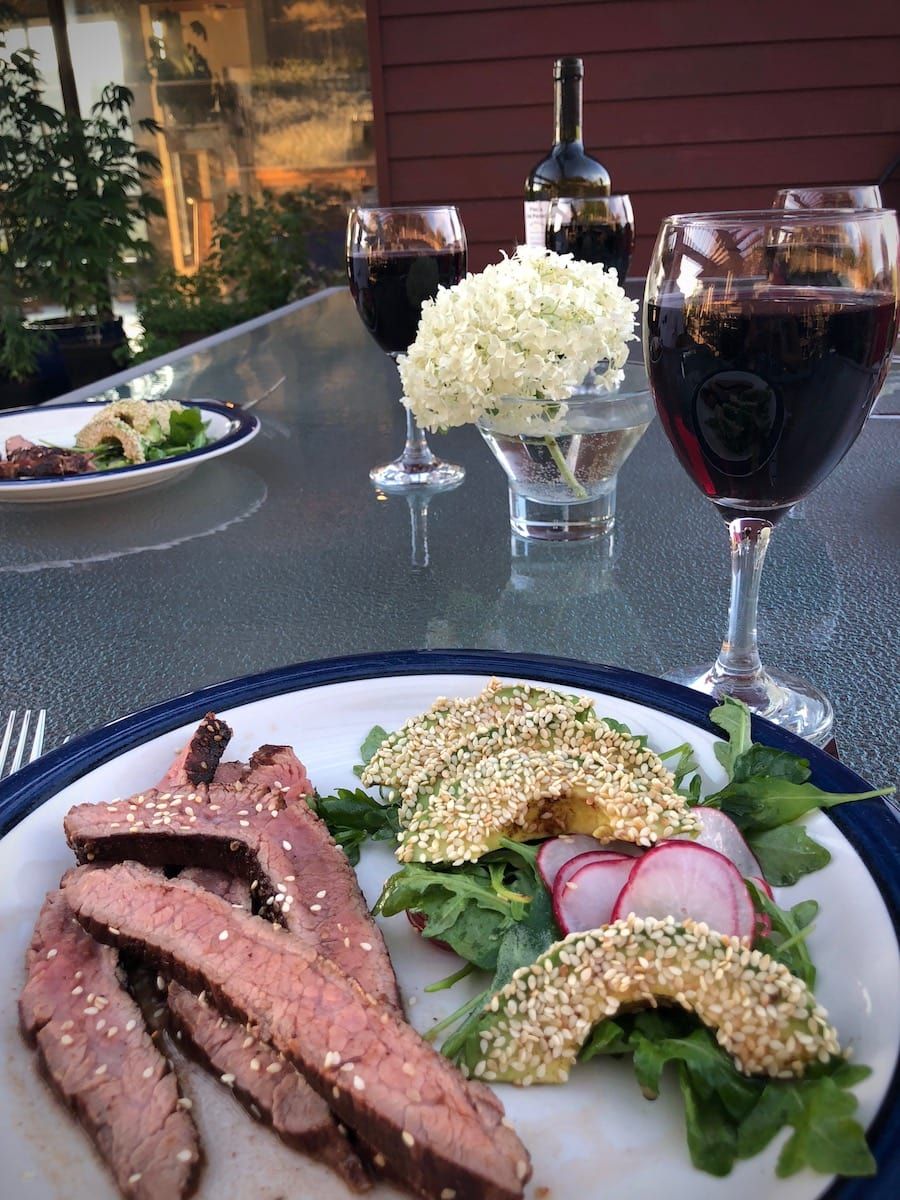 The Meat:
1 1/2 teaspoons cocoa
1 1/2 teaspoons kosher salt
1 teaspoon of dried (ancho if you can get it) chili powder
1/2 teaspoon of sesame seeds (optional)
1/2 teaspoon of freshly ground black pepper
1 lb of steak - we used flank steak first - and a rib steak - both were great
Make the rub by combining the dry ingredients in a bowl
Season the steak on both sides
Heat grill until hot
Cook 3-4 minutes per side more or less depending on your doneness factor
Allow to rest at least 4 minutes - while you prep the salad
The Veggies:
1 Avocado -pitted, cut in wedges (4 per half) and peeled
Juice of a lime
Cocoa and chile rub ( recipe below)
2 Tablespoons white sesame seeds - toasted
1 cup baby arugula - or mixed greens
2 radishes - thinly sliced
1 Tablespoon extra virgin olive oil
Kosher salt
The Reduction
Fig vinegar - I bought this instead of making it from scratch - and chose to create a reduction the second time I tried this recipe - and we liked it better. All I did was add a tad of olive oil and cook some in a small saucepan until I liked the texture... somewhat thickened and very aromatic.
Squeeze lime juice over avocado wedges - and let sit a minute
Season with a dash of cocoa chili rub
Put toasted sesame seeds on a plate - and coat both sides of the avocado wedges - set aside
Toss radishes, greens, olive oil and salt
Serve
Divide onto greens onto plates
Add the avocado
Slice the beef across the grain and add to plate
Season with a drizzle of the Fig vinegar reduction enjoy!