North Okanagan Monthly Real Estate Report
December 2017
Top Sale 80 Ravine Drive, Coldstream, V1B 4C9
This home, built in 2011, boasts over 7600 square feet of living space to house its 6 bedrooms and 7 baths. Original asking price for this home ( first time on the market) was $2,590,000 and sold within 70 days on the market for $2,550.000.
With tax assessment notices in the mail - I want to note that the tax valuation for this home in 2017 was a mere $1,503,000! (More on tax assessed value versus market value in a later post. ) In the mean time - if you have questions about the market value of your home, Contact us.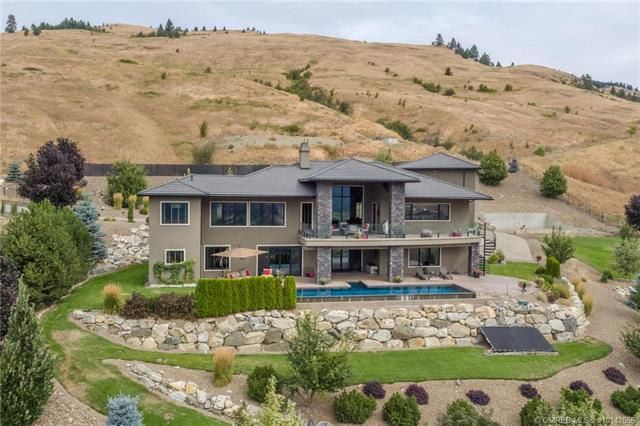 Marketed as: Ride, hike or camp right out your back door! This 5 acre dream property borders Crown Land & has multiple garages for your toys, shop & vehicles + a gorgeous 6 bed home includes 1 bed carriage suite above the triple garage and heated saltwater infinity pool! Gated & completely fenced yard boasts beautiful landscaping, garden beds & fire pit. Amazing views over the Coldstream Valley & Kalamalka Lake! Custom owner built home w/stunning craftsmanship throughout! Granite counters, exposed beams, custom solid wood cabinets & mill work, engineered hardwood, marble tile, cork, in-floor heat, Control4 Home Automation System, 8' solid doors, security & camera system, indoor/outdoor sound system…! Luxury master suite is designed to enjoy the view from your bed and the spa-inspired ensuite offers a freestanding soaker tub, marble steam shower w/body sprays & custom walk-in closet! Extend living space to the large view deck or lower level complete w/wet bar, family & games rooms & poolside patio!
Here is a look at the North Okanagan residential real estate stats based information provided by REALTORS® to OMREB from December 1st - 31st 2017.
Condo/Apartments
| | |
| --- | --- |
| Sales | 8 |
| New Listings | 7 |
| Current Inventory | 55 |
| Number of Months | 7 |
| Sell/Inv. Ratio | 14.55% |
| Days to Sell | 103 |
| Days – Range | 19 to 316 |
| Average Price | $177,113 |
| Median Price | $153,950 |
| Price - Range | $115,000 - $317,500 |
| Hottest Neighbourhood | Vernon City |
Condo/Townhouses
| | |
| --- | --- |
| Sales | 21 |
| New Listings | 17 |
| Current Inventory | 63 |
| Number of Months | 3 |
| Sell/Inv. Ratio | 33.33% |
| Days to Sell | 59 |
| Days – Range | 6 to 405 |
| Average Price | $341,076 |
| Median Price | $357,000 |
| Price - Range | $155,000 - $649,900 |
| Hottest Neighbourhood | Harwood |
Lots & Acreages
| | |
| --- | --- |
| Sales | 14 |
| New Listings | 8 |
| Current Inventory | 294 |
| Number of Months | 21 |
| Sell/Inv. Ratio | 4.76% |
| Days to Sell | 155 |
| Days – Range | 13 to 498 |
| Average Price | $311,146 |
| Median Price | $252,250 |
| Price - Range | $74,000 - $770,000 |
| Hottest Neighbourhood | North BX |
Residential
| | |
| --- | --- |
| Sales | 57 |
| New Listings | 44 |
| Current Inventory | 213 |
| Number of Months | 4 |
| Sell/Inv. Ratio | 26.76% |
| Days to Sell | 65 |
| Days – Range | 2 to 740 |
| Average Price | $496,691 |
| Median Price | $484,000 |
| Price - Range | $216,500 - $2,550,000 |
| Hottest Neighbourhood | Coldstream |

Ratio of Sales vs Inventory 20.24%