North Okanagan Real Estate April 2018 Overview
Top sale in the North Okanagan in April was located in a waterfront community in Okanagan Landing. Built in 2003, with over 3000 square feet of finished floor area, this home offered 3 bedrooms and 4 full baths. Listed at $1,375,000. It sold in 21 days for $1,365,000.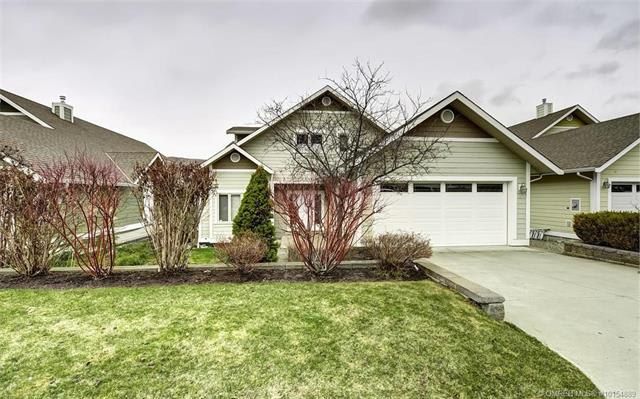 Marketed as: Waterfront luxury living in an exclusive & desirable Okanagan Landing gated community! An immaculate 3096 sq.ft +/- luxury home with 3 bedrooms (3 ensuite), 4 bathrooms & an attached double garage. The open concept layout boasts 9' ceilings with a double sided fireplace creating a warm atmosphere in both the dining & living room area. The large gourmet kitchen has modern cabinetry, stainless appliances as well as an expansive island with raised breakfast bar for casual eating. Upstairs, the spacious master bedroom with walk in closet & ensuite opens onto a private balcony overlooking the lake. Situated steps away from the gorgeous Okanagan Lake, enjoy your beach front and lakeside dock with boat slip. The Lakeside gives you security and is professionally managed allowing you to relax & enjoy your home. Conveniently located close to downtown Vernon, beaches, parks, schools, shopping, The Rise, Predator Ridge Golf courses & more, this is your perfect Okanagan Lakefront destination!
Based on April 1st - 30th
Condo/Apartments
| | |
| --- | --- |
| Sales | 28 |
| New Listings | 24 |
| Current Inventory | 63 |
| Number of Months | 2 |
| Sell/Inv. Ratio | 44.44% |
| Days to Sell | 54 |
| Days – Range | 2 to 207 |
| Average Price | $197,911 |
| Median Price | $157,000 |
| Price - Range | $81,000 - $516,000 |
| Hottest Neighbourhood | Vernon City |

Condo/Townhouses
| | |
| --- | --- |
| Sales | 28 |
| New Listings | 45 |
| Current Inventory | 107 |
| Number of Months | 4 |
| Sell/Inv. Ratio | 26.17% |
| Days to Sell | 42 |
| Days – Range | 4 to 293 |
| Average Price | $322,840 |
| Median Price | $327,500 |
| Price - Range | $121,900 - $465,000 |
| Hottest Neighbourhood | Okanagan Landing |
Lots & Acreages
| | |
| --- | --- |
| Sales | 10 |
| New Listings | 44 |
| Current Inventory | 307 |
| Number of Months | 31 |
| Sell/Inv. Ratio | 3.26% |
| Days to Sell | 230 |
| Days – Range | 12 to 532 |
| Average Price | $196,450 |
| Median Price | $211,000 |
| Price - Range | $72,000 - $346,500 |
| Hottest Neighbourhood | Middleton Mountain Coldstream |

Residential Homes
| | |
| --- | --- |
| Sales | 92 |
| New Listings | 168 |
| Current Inventory | 346 |
| Number of Months | 4 |
| Sell/Inv. Ratio | 26.59% |
| Days to Sell | 55 |
| Days – Range | 3 to 298 |
| Average Price | $510,372 |
| Median Price | $460,250 |
| Price - Range | $170,000 - $1,365,000 |
| Hottest Neighbourhood | Foothills |

Ratio of Sales vs Inventory 23.10%