North Okanagan Real Estate Market Update -June 2018
PLEASE NOTE: Average prices indicate market trending only. They do not reflect actual prices which vary from house to house and area to area. The Median sale price is the midpoint of sales during the month. The Average and Median Sold Prices are for Single Family Homes and do not include Residential Waterfront Properties.
How's The Market?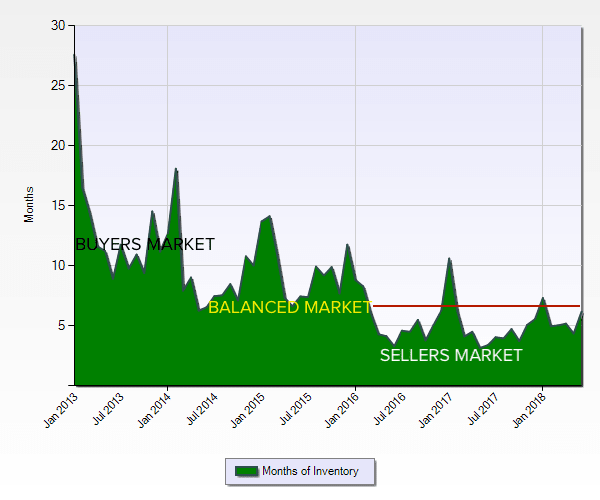 We pulled this chart from the OMREB database. It reflects the months of inventory and market status for Single family homes in the North Okanagan. You can see that we are into a more balanced market ( 6 months of inventory on hand). When you look at the information below - you will see that the listings now are outpacing the sales DRAMATICALLY which is leading the shift in market dynamics.
The following information is based on data reported June 1st - 30th to the Okanagan Mainline Real Estate Board.
Condo/Apartments
| | |
| --- | --- |
| Sales | 13 |
| New Listings | 31 |
| Current Inventory | 75 |
| Number of Months | 6 |
| Sell/Inv. Ratio | 17.33% |
| Days to Sell | 44 |
| Days – Range | 3 to 90 |
| Average Price | $227,358 |
| Median Price | $200,755 |
| Price - Range | $109,000 - $533,000 |
| Hottest Neighbourhood | Vernon City |

Condo/Townhouses
| | |
| --- | --- |
| Sales | 28 |
| New Listings | 49 |
| Current Inventory | 132 |
| Number of Months | 5 |
| Sell/Inv. Ratio | 21.21% |
| Days to Sell | 56 |
| Days – Range | -3 to 161 |
| Average Price | $376,141 |
| Median Price | $392,000 |
| Price - Range | $170,000 - $685,000 |
| Hottest Neighbourhood | Okanagan Landing |
Lots & Acreages
| | |
| --- | --- |
| Sales | 16 |
| New Listings | 45 |
| Current Inventory | 327 |
| Number of Months | 20 |
| Sell/Inv. Ratio | 4.89% |
| Days to Sell | 163 |
| Days – Range | 3 to 649 |
| Average Price | $232,158 |
| Median Price | $221,500 |
| Price - Range | $40,000 - $459,000 |
| Hottest Neighbourhood | Lumby Valley |

Residential Single Family Homes
| | |
| --- | --- |
| Sales | 98 |
| New Listings | 234 |
| Current Inventory | 483 |
| Number of Months | 5 |
| Sell/Inv. Ratio | 20.29% |
| Days to Sell | 44 |
| Days – Range | 1 to 168 |
| Average Price | $528,700 |
| Median Price | $475,000 |
| Price - Range | $160,000- $2,400,000 |
| Hottest Neighbourhood | East Hill |

Ratio of Sales vs Inventory 19.52%