Okanagan Real Estate Outlook 2018
RE/Max just released their Canadian Housing forecast for 2018.
Nationally
This past year saw the single-family detached home and condo markets diverge on distinctly different paths in Canada's two highest-priced real estate markets: Greater Vancouver and the Greater Toronto Area
As oil prices continue to stabilize, both Calgary and Edmonton have experienced modest average residential sale price increases in 2017
The new OSFI mortgage qualification rules that come into effect on

Jan. 1, 2018

impacted housing market activity toward the end of this year and are expected to slow activity in real estate markets across Canada in the first part of 2018
Canadians continue to look for balance between affordability and amenities outside of major urban centres
Meanwhile in our area: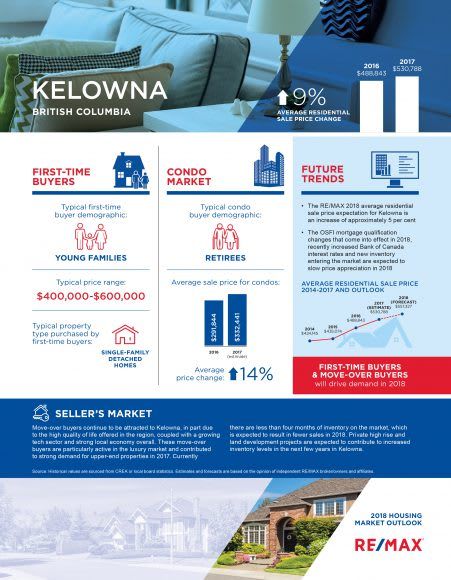 These move-over buyers are particularly active in the luxury market and contributed to strong demand for upper-end properties in 2017.
Currently there are less than four months of inventory on the market, which is expected to result in fewer sales in 2018.
Private high rise and land development projects are expected to contribute to increased inventory levels in the next few years in Kelowna and area.
If you have been following the market trends in the region, you know that the Central Okanagan generally leads the trend - and market activity and price changes make their way North thoughout the region which stretches from Peachland to Revelstoke.