Shuswap Residential Real Estate Statistics September, 2017
Typically in our Okanagan Shuswap real estate region, the market changes first in the South, and gradually works its way North - from The Central Zone to the Shuswap.
The chart below shows the change in market demand compared to available inventory -what we call the Absorption rate - expressed in months - as to how long it would take at current demand to consume the properties available.
Shuswap Zone (Salmon Arm to Revelstoke):
In February of 2009 - it would have taken 54.40 months (hmmm insert Band reference here) - yes that is indeed 4 and 1/2 YEARS!
In may of this year the Shuswap experienced it's most robust month with just over 6 months supply of real estate available. Currently slightly more (6.81 months) of product is listed for sale.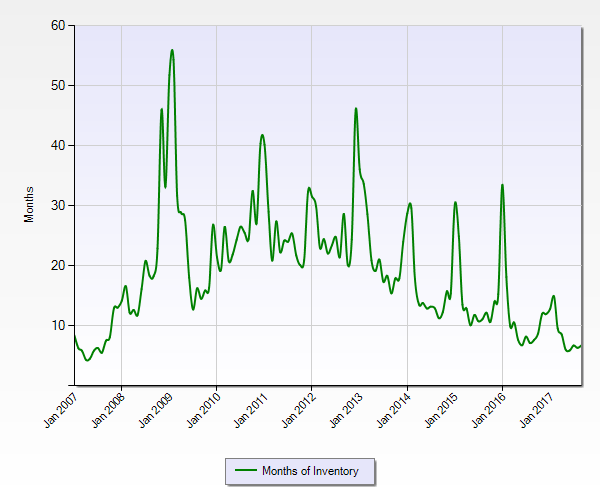 Top Sale in The Shuswap Zone:

411 Coach Road, Sicamous, V0E 2V0

MLS® #:

10132281

Status:

Sold






Zone:

Shuswap / Revelstoke

Sub Area:

SM - Sicamous

| | |
| --- | --- |
| | |
| Price: | $1,450,000 |
| Orig Price: | $1,450,000 |
| Sold Price: | $1,275,000 |
| Days to Sell: | 161 |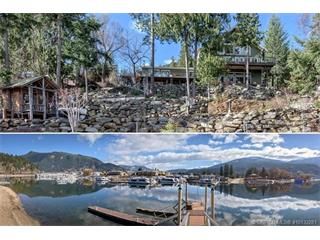 Marketed As:
WATERFRONT HOME FOR SALE ON MARA LAKE in SICAMOUS COMES WITH A LICENSED DOCK. Pride of ownership shows the moment you enter the home from the design & quality to the care and attention both inside & out. At about 5,500 sf between an original home built in about 1978 & the adjoining structure built in 2010, there are 2 kitchens, 6 bedrooms, 4 1/2 baths, a sun room, 2 living rooms & 2 family rooms including one large enough for a billiards table. There is a single car garage, lots of parking & storage. Built in 2010, the newer side has a custom-designed kitchen with granite counters, a large island & a walk-in pantry. The main level also includes laundry, bedroom or office & a 2 pce bathroom. The Master Suite in the loft is about 941 sf & includes a sun-room with french doors, a tiled steam shower & two walk-in closets. The property is perfect for multi-family purchase or primarily use one side to live in or vacation at and keep the other as a space for self-contained guests or to rent.
Here are the numbers from OMREB, for the Shuswap Revelstoke residential MLS® real estate market in September 2017.
The following charts are based on September 1st - 30.
Shuswap Real Estate Market Update for September 2017
| | |
| --- | --- |
| Condo Apartment | |
| Listings Sold | 6 |
| New Listings | 5 |
| Current Inventory | 41 |
| Absorption Rate Sell/List | 14.63% |
| Months of Inventory on Hand | 7 Months |
| Days to Sell (Average) | 180 |
| Days to Sell (Range) | 35 to 647 |
| Average Sale Price | $300,150 |
| Median Sale Price | $287,450 |
| Range of Sales Prices | $185,000 - $455,500 |
| Hottest Neighbourhood | Revelstoke |
| | |
| --- | --- |
| Condo Townhouse | |
| Listings Sold | 11 |
| New Listings | 12 |
| Current Inventory | 43 |
| Absorption Rate Sell/List | 25.58% |
| Months of Inventory on Hand | 4 Months |
| Days to Sell (Average) | 133 |
| Days to Sell (Range) | 30 to 332 |
| Average Sale Price | $319,227 |
| Median Sale Price | $289,000 |
| Range of Sales Prices | $189,000 - $660,000 |
| Hottest Neighbourhood | Sicamous |
| | |
| --- | --- |
| Building Lot | |
| Listings Sold | 34 |
| New Listings | 43 |
| Current Inventory | 345 |
| Absorption Rate Sell/List | 9.86% |
| Months of Inventory on Hand | 10 Months |
| Days to Sell (Average) | 242 |
| Days to Sell (Range) | 9 to 2,120 |
| Average Sale Price | $159,404 |
| Median Sale Price | $128,450 |
| Range of Sales Prices | $26,000 - $765,000 |
| Hottest Neighbourhood | Blind Bay |
| | |
| --- | --- |
| Residential Homes | |
| Listings Sold | 53 |
| New Listings | 82 |
| Current Inventory | 235 |
| Absorption Rate Sell/List | 22.55% |
| Months of Inventory on Hand | 4 Months |
| Days to Sell (Average) | 62 |
| Days to Sell (Range) | 4 to 308 |
| Average Sale Price | $416,734 |
| Median Sale Price | $365,000 |
| Range of Sales Prices | $97,000 - $1,275,000 |
| Hottest Neighbourhood | North East Salmon Arm |
Ratio of Sales vs Inventory 19.01%
Totals include variables in any given due to previous month's collapsed sales and deleted listings. e & eo