Remembrance Day In the North Okanagan, 2022
November 11, 2022 - What's Happening where and when.
Okanagan Indian Band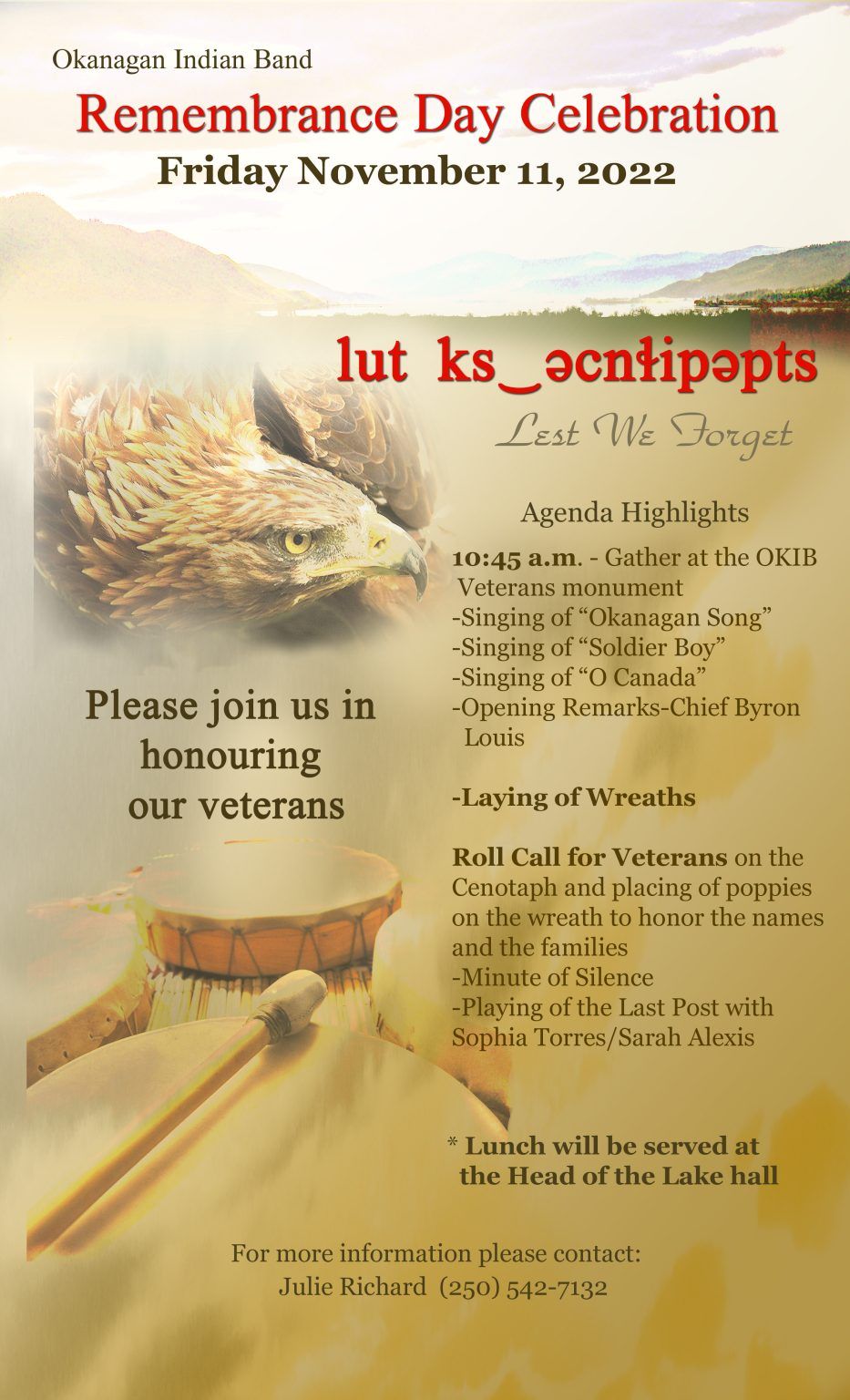 10:45 am
Gathering at the OKIB Veterans Monument (Located at the band Office/former Council Chambers)
-laying of the Wreaths
-Roll call for Veterans
Lunch will be served at the Head of the Lake Hall
Armstrong, BC
Armstrong Remembrance Day Ceremony will be held at the Hassen Memorial Arena on November 11, 2022.
10:30 am Placement of the Cenotaph Guards
10:50 am Placement of the Colour Guard
10:55 am Singing of the National Anthem
11:00 am Playing of Last Post
Followed by - 2 minutes of silence
Followed by - Piper's Lament
Followed by - Rouse.
ACT of REMEMBRANCE:
"They shall grow not old, as we that are left grow old. Age shall not weary them, nor the years condemn. At the going down of the sun and in the morning, we will remember them."
RESPONSE: "We will remember them.
11:12 am Placement of Colours
11:13 am Chaplin - Prayer
11:30 am Placement of Wreaths
11:59 am Retrieval of Colours
Singing of "God Save The King"
The exit of honour guards.
Vernon, BC
The Remembrance Day Service in Vernon returns to Kal Tire Place on Friday, November 11, 2022. Please note there are no official ceremonies at Cenotaph Park. Doors will open at 9:30 am to the public. Vernon Concert Band and the Kalamalka Highlanders Pipe Band will Perform.
9:50 am Musical Prelude
10:00 am Parade forms
10:25 am Parade of Veterans, First Responders, Cadets, Cubs and Scouts
10:35 am Service Begins
11:00 am Moment of Silence followed by laying of Wreaths
After the service people are invited to the Legion ( 5151 25th Avenue) for chilli and refreshments.
Coldstream, BC & Lavington BC
Remembrance Day Ceremonies will be held in both Coldstream and Lavington on November 11, 2022 with services commencing at 10:45 at the local Cenotaphs.
Refreshments will be available at the respective Fire Halls after the ceremony.
Enderby, BC
All I was able to find was on the Enderby Legion site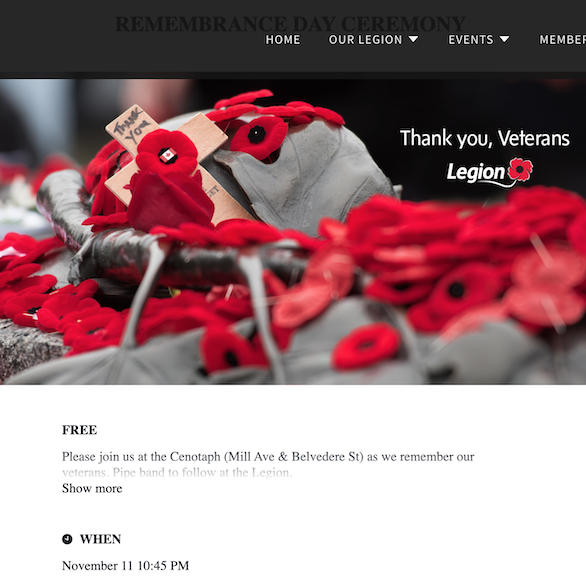 pretty sure they meant AM;-)
Lumby, BC
The Lumby Legion will have all those marching in the parade meet at the Branch at 10:30-10:40.
Roy will marshall everyone up and then march to the Cenotaph. As usual 2 minutes of silence at 11:00am followed by a service. Then they will come back to the branch and warm up before our Colour Guard then goes to the Lumby Cemetary to do a short service for our Veterans who are interned there.
The Legion hall (2016 Miller Street) will be open to families and the lounge to everyone 19 and over.
(The Legion will be closed until after the Remembrance Day Ceremony.)